Tokyomango reports about this microwave potato chip maker.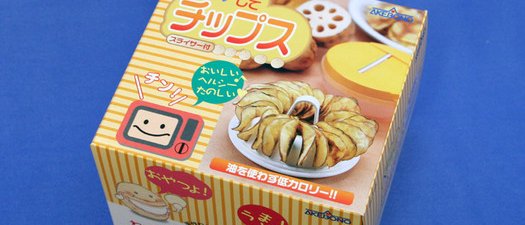 This is a microwave potato chip maker. Good for those who are having movie night at their house but only have a bag of Russet potatoes, or for those who like to have everything homemade. It comes with a slicer, which you first use to thinly slice your potatoes. Then you simply place the slices on the rack, stick the rack in the microwave for 6 minutes, and you have your own fresh, sodium- and funky chemical-free bowl of crispy potato chips!
If you love chips like me, it might be worth purchasing a chip maker device like this one (although I have my reservations about the healthiness of microwaving stuff as well).