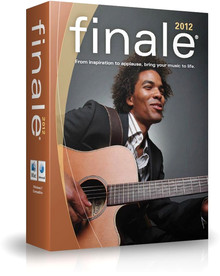 MakeMusic has announced Finale 2012b, a maintenance update for the notation software for Windows and Mac.
Finale 2012b is a free download for everyone who owns Finale 2012. It includes several new features including automatic range checking, the Finale Lyrics font, EPUB export, a new Aria Player, and more. Finale 2012b also includes more than 60 bug fixes. Visit the update page to see all the details and to download the update.
New in Finale 2012b
Automatic Range Checking.
Automatic Octave Adjustments when copying between staves.
The ability to export EPUB compatible files (viewable on most tablet devices).
New Finale Lyrics font makes lyrics more legible (even on tablet devices).
Dozens of improvements that target long-standing customer requests.
Finale 2012b is a free update for registered Finale 2012 users.
More information: MakeMusic