PlugInGuru has launched MegaMagic: Cello, a cello instrument library for Omnisphere 2, Kontakt and EXS24.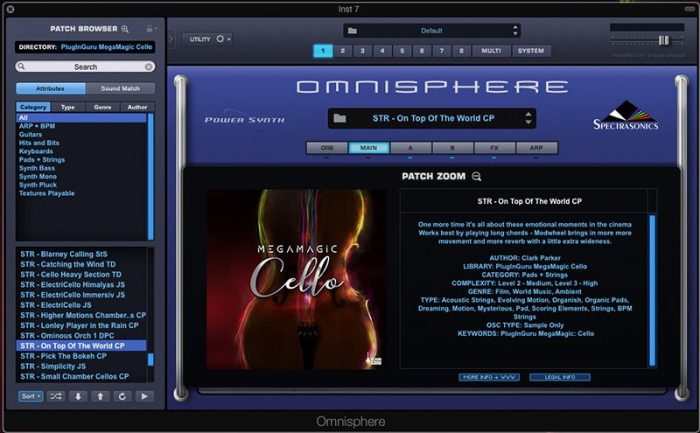 The library comprises 75 multis, 138 patches and 243 cello samples. The cello instrument was played by Portland professional concert cellist Kevin Deitz and engineered by Drew Canulette at his studio in North East Portland.
MegaMagic is a unique PlugInGuru sound (found also in MegaMagic Guitars, Bells & Winds and 2 other libraries) which blends 3 different reverbs and other effect processing into the samples for a unique result. Playing 14 seconds of reverb that never becomes muddy is a unique experience due to the fact the reverb is not an effect… There are also some of the articulations recorded with Plate reverb as well as a variation/bonus.

These sample maps are not the typical thousands of samples and multiple Gigabytes in size of most modern day sample libraries. There are only 7 or 8 samples used in the Omnisphere version of the library due to the fact a Multi contains 8 patches but each patch zone can contain a maximum of one sample.
MegaMagic: Cello features
75 Multis, 138 Patches and 243 samples of beautiful, lush, magical Cello for Omnisphere 2 plus the core presets in EXS24 and Kontakt 5.7 formats.
Articulations include Vibrato, No Vibrato, Down and Up with Vibrato, Crescendo, Pizzicato, Spiccato, Marcato, Motion Slow, Motion Fast.
4 Synth pads created by combining cello with other synths (created by John Lehmkuhl).
Note that the Kontakt 5 and EXS24 libraries are a fraction of the depth of the Omnisphere 2 library.
MegaMagic: Cello is available for the intro price of $45 USD until December 1st, 2017 (regular $49 USD).
More information: PlugInGuru / MegaMagic: Cello