Mercuriall Audio has announced SS-11X, a brand new effect plugin based on a tube preamp AMT SS-11 (versions A and B).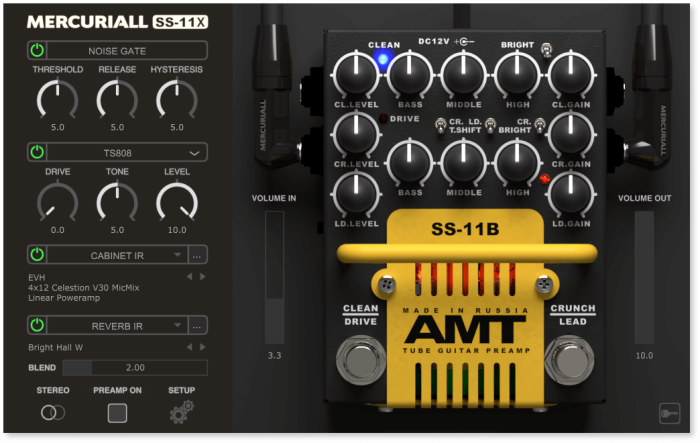 The plugin promises wonderful Fender-style clean sound and powerful, roaring crunch and lead channels.
The project is officially approved and supported by AMT Electronics, who supplied us with electric circuits, hardware prototypes and production 3D models. This gave us a possibility to model the SS-11X in extreme detail, making it virtually impossible to distinguish the sound difference between hardware or software. A live comparison video is on its way.

One of the aims of this project was to create a very simple and affordable software with friendly and attractive user interface, as well as lower system requirements.

Even though the main objective was modeling the preamp, we included some other important features. The SS-11X has a noise gate, a collection of overdrive pedals, cabinet IR loader, reverb IR loader and an option to choose the preamp tubes. This lets anyone create a solid guitar sound quickly and effortlessly within one simple window.

SS-11X opens a new chapter in the history of Mercuriall Audio – it is the first product where we use our brand new, cutting edge technology named Neural Hybrid Engine. It is a much more precise, flexible and faster method for modeling electric circuits. As the pioneers of integrating neural networks in amp sims, it took us 5 years of research and development to create the Neural Hybrid Engine and successfully build SS-11X using it. We also applied our tube curve tracer machine to make sure each tube model is unique, just as in real life.
SS-11X is scheduled for release in Autumn 2018, priced at $39.99 USD. Existing Mercuriall customers can get the plugin at a discounted price of $29.99 USD.
More information: Mercuriall Audio