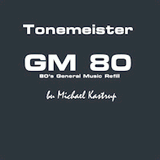 Michael Kastrup has released Tonemeister GM 80, an 80's General Music ReFill for Reason.
In short this Refill could be considered as a General 80's Music module with a twist, the twist is that the multisamples are done with effects on, meaning reverb and other spatial sound things are kept except for delays.

All multisamples are synthesized from scratch, additional samples are a special Redrumkit created for these 80's sounds.

The Refill size is 300 MB (650 MB unpacked), covers 120+ multisamples which are made into NN-XT presets to keep things real simple.
Tonemeister GM 80 is available to purchase for 19 EUR.
More information: XSynth