Mike Clarke has released version 1.2.4 of Insidious 6581, an accurate emulation of the 6581 SID chip from the Commodore 64.
The update includes filter curves based Antti Lankila's filter graphs for Standard (8580), Average SID, Follin, Galway, Strong and Extreme.
The step table is now linked to the clock frequency so you can run the table at up to 150Hz (triple-speed playback), and arp speed of the Live Arp mode is now adjustable.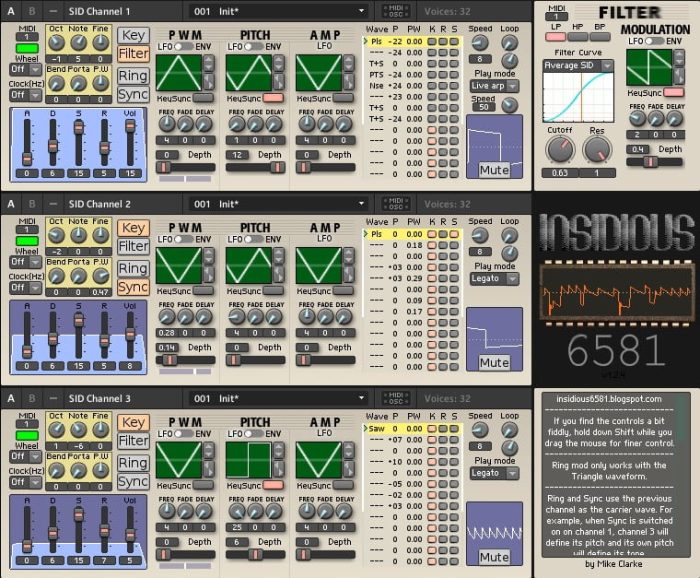 As always, it's available for free from Reaktor's User Library (but you do need Reaktor to be able to use it). It is probably now the most accurate sounding SID emulation available (and by far the easiest to use).

A bold claim, but after investigation and analysis I can confidently state that the output of Insidious 6581 is more accurate than reSID, which is pretty much the de facto SID emulation library in use today.
Changes in Insidious 6581 v1.2.4
Added filter curves to match the filter cutoff values to various SID types.
Added the ability to adjust the arp speed in 'Live arp' mode.
Linked the Clock to the table speed allowing faster table speeds.
Removed the filter oscilloscope to allow for the filter curve graphs.
Added a final mix oscilloscope to the logo's SID chip.
Changed the colour of the off colour of the PWM graph warning lights to match the channel background.
Fixed a Clock bug where the modulation values would be smooth every other clock event.
Fixed a potential bug when the Clock was set to Off.
Renamed "Vol" in the Wheel menu to "Amp" to match the mod section it applies to.
Got around a Reaktor bug where Live Arp wouldn't respond to MIDI in the Reaktor standalone app.
Added an EQ to the noise output to more closely match the real SID output.
Increased the stability of the oscilloscope displays.
Fixed a bug in the filter where negative cutoff values would be treated as positive.
Insidious 6581 is a free download from the NI User Library.
More information: Insidious 6581