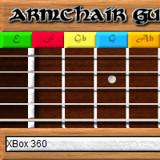 Mike Norrish has released version 1.5.0.0 of Armchair Guitarist, a VST plug-in for providing MIDI input from one of the numerous console guitar controllers currently on the market.
It is a pure-MIDI plugin- MIDI messages, not audio data is sent to the host- in essence, the plugin allows the user to use a guitar controller the way they would a standard MIDI keyboard.

This release basically consists of a few little improvements and bugfixes, but there is enough difference there to warrant the 1.5 release. The Fret Board is now five frets wider, there are now parameters for fine tuning the Whammy Bar, and there is a proper menu for selecting controller types. The major new fix is that Guitar Hero World Tour and Guitar Hero 5 controllers for the Playstation 3 are now fully functional, after a few hiccups.
Changes in Armchair Guitarist v1.5.0.0
Whammy Bar can only bend notes down (Fixed)
Playstation 3 Button Mappings Incorrect (Fixed)
Add ability to specify range of Whammy Bar input (Implemented)
Changing to the previous fret at fret zero goes to incorrect fret (Fixed)
Need a GUI Item for changing programs (Implemented)
Resize GUI to fit Program Selector (Implemented)
Extend Fretboard (Implemented)
Armchair Guitarist is available to download as a freeware VST plug-in for Windows PC.
More information: Armchair Guitarist