Plugin Boutique has launched a sale on Minimal System Group, offering 80% off on a collection of VST plugins for Windows for a limited time only.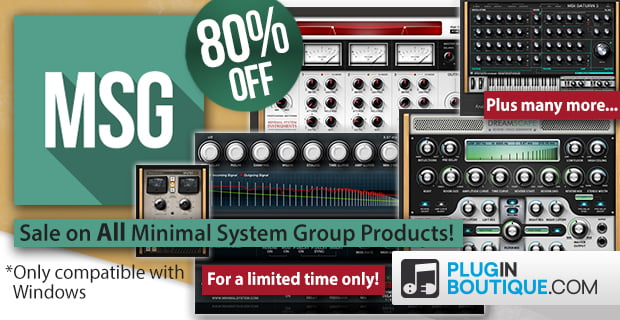 The sale includes popular plugins such as the Dreamscape reverb, FiltR Bank Pro filter and Punch Evolved compressor effect.
Minimal System Group is a music production tools developer creating absolutely top of the line products for the novice, intermediate, and advanced music producer and/or DJ.

Specialisations include plugins for mixing and mastering audio including compressors, EQ's, gates, reverb's, and channel strips. They also produce synths and effects including filters, delays, virtual analogue synths, Ableton Live Packs, and Sample Packs.
Minimal System plugins are available for Windows (32-bit VST).
The offer ends February 2nd, 2018.
More information: Minimal System Group