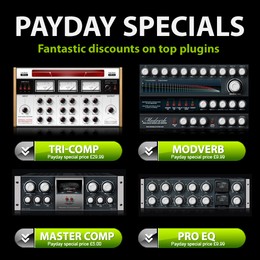 Minimal System Instruments has announced its Payday Special Offers, offering a 50% discount on a number of its plugins for a limited time.
To celebrate payday Minimal System Instruments are offering 4 of our most popular plugins at fantastic discounted prices for this weekend only! Up to a massive 50% off.

Minimal System Instruments is a VST(i) plugin developer which creates absolutely top of the line products for the music producers and/or DJ's. Minimal System Instruments specialises in plugins for mixing and mastering audio including compressors, EQ's, gates, reverb's, and channel strips.

We believe that the best sound should not come at a price. Our range of VST plugins reflect this by outperforming the 'market leaders' while retaining a sensible pricing structure.
Payday sale offers
Tri-Comp multiband dynamics processor. Now £29.99 GBP.
ModVerb reverb plugin packed with unique features. Sale price £9.99 GBP.
Master Compressor analogue modelled processor inspired by classic hardware. Now £5 GBP.
Pro EQ high end analogue processor designed for the most demanding producers and mastering engineers. Now £9.99 GBP.
The sale ends October 1st, 2012.
More information: Minimal System Instruments