Minimal System Instruments has announced a limited time sale on its reverb effect plug-ins.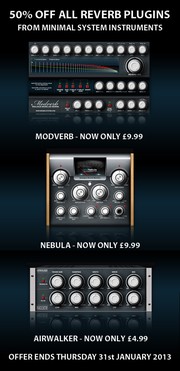 MSI reverb plugins
ModVerb is a reverb plugin packed with unique features. Modelled on analogue technology the plugin also sounds as good as it looks. Featuring four distinct sections (including – main reverb section, modulation section, delay section, and master section) the sounds that can be created with this processor are immense and endless.
Nebula Analogue Space Reverb can be used to create standard reverb effects but it really excels when used to create stunning atmospheric sounds from something as simple as a single drum hit. When used with more complex loops and sounds the possibilities are endless.
Airwalker is a beautiful sounding analogue modelled reverb based on hand built classic processors. Sometimes with audio plugins less is most definately more, you dont want to get bogged down with endless amounts of controls and spend all of your time experimenting and not actually creating the sounds you need.
The reverb plug-ins (Windows VST) are 50% off until January 31st, 2013.
More information: Minimal System Instruments