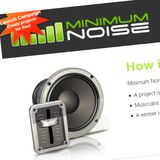 Minimum Noise is a new online service that allows you to "crowdsource" music production.
Co-founder Kristian Dupont wrote in to explain:
This means that you can have somebody make the bassline, beats or vocals for your music while you focus on the things that you are best at.
Or, you can make money helping somebody else with their music if they are requesting something that you do well.
Here's how it works:
A project is created, describing the kind of production requested and the prize offered.
Musicians audition for the project with sound bites or examples of previous work.
A winner is chosen and audio and money are exchanged.
Looks like a great opportunity to collaborate with musicians around the world.
Check Minimum Noise for more information.