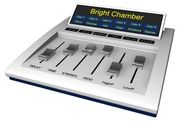 Studiodevices has released Lexicography Vol. 1 & 2, two new impulse responses libraries.
Lexicography Vol. 1 & 2 features
570 MB / 1.8 GB high density 24bit / 96kHz impulse-responses.
Includes halls, rooms, chambers, plates, ambiences and even some spaces, all of them are full new programs for highly topical sound.
Each reverberation was sampled in Stereo, Left, and Right. Every impulse-response is available in stereo and true-stereo.
Lexicography Vol. 1 & 2 are available for 79.99 EUR each, or in the Lexicography Bundle for 139 EUR.
Visit Studiodevices for more information and audio demos.