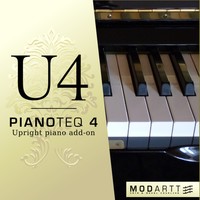 Modartt has announced the U4 upright piano add-on for the Pianoteq virtual piano instrument for Windows and Mac.
Modartt proudly presents the very first upright piano model for Pianoteq: the U4 add-on. Emphasizing the characteristics of upright pianos, it offers 21 exciting presets demonstrating the versatility of the instrument.

Besides the beautiful timbre of well-built acoustic pianos, there are higher inharmonicity and increased imperfections in presets such as Blues, Honky Tonk, Vintage, Detuned, Ruined, Bierkeller, Tacky, Wavy, Weathered, Club…
The add-on is available to purchase for 49 EUR.
Modartt has also updated Pianoteq to version 4.5.
Pianoteq 4.5 includes an updated engine using an improved physical model of the hammer/string interaction which benefits the new U4 Upright Piano and the D4, K1, YC5 and Blüthner Model 1 grand pianos. The timbre variation is now more refined, bringing more intimacy and stronger attack at fortissimo.

Included in this new version is a new Condition parameter that allows with a simple click to modify the state of the instrument from freshly-tuned to completely worn-out.
The upgrade is free to all Pianoteq customers with a licence of version 4.0 or later.
More information: Pianoteq