Solid State Logic has introduced the SSL Live, Bus Comp 500 Module and Sigma at the Musikmesse Prolight + Sound 2013.
The 'Live' brings SSL's unique approach to audio quality and console ergonomics to sound for the stage. SSL has been at the leading edge of analogue and digital audio console innovation for over 35 years.

Like so many multi award winning, ground breaking and much loved consoles for Music, Broadcast and Post production SSL has created through the decades, Live promises to bring something very special to the party.
Live is due to ship in September 2013.
The SSL Stereo Bus Compressor for 500 format modular racks is now available.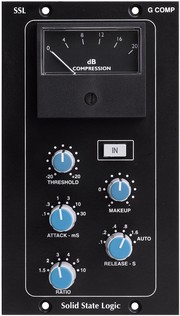 Often imitated but never equalled, the centre section compressor from the 1980's G-Series analogue console is an audio production legend. It is a simple unit with a simple purpose; it makes complete mixes sound bigger, with more power, punch and drive. It brings cohesion and strength to your mix without compromising clarity. To this day it remains a key element of the SSL sound and has featured on countless classic recordings.

The availability of the Stereo Bus Compressor in a module for the 500 format makes this essential audio production tool available to users of the popular API 500 format modular rack platform.
The Bus Comp 500 Module is available to purchase from SSL Resellers worldwide, priced at £1329 GBP / $2299 USD / 1679 EUR + VAT or Sales Tax.
Solid State Logic's Sigma is a remote controlled analogue mix engine.
Designed for the DAW user that seeks the legendary big sound of an SSL console while retaining the convenience of working in the box, Sigma is a unique analogue mix engine in a 2U rack unit, that is remote controlled using MIDI via Ethernet using a DAW or an iDevice compatible software interface.

Using proprietary MDAC control technology first featured in our Duality and AWS studio consoles, Sigma's 100% analogue summing engine can be driven by automation data created within your DAW of choice. Sigma features 16 flexible input channels which can be individually switched between being mono or stereo for up to 32 channels at mixdown. There is accurate front panel LED metering for all channels. There are two stereo mix busses with dedicated outputs for convenient printing of stems back to the DAW and individual stereo insert points to facilitate implementation of parallel compression. Each input channel also features an individual direct output. Mix Bus B can also be injected into Mix Bus A for final mixdown.

An Artist and Studio monitoring section provides a Monitor and Headphone output. The Main monitor output has Main and Alternative connections to accommodate 2 sets of monitors. A comprehensive switching matrix enables selection of your monitor source. A large front panel rotary control uses a push-select mechanism to determine whether it adjusts Mix A, Mix B, Main Monitor or Headphone levels. There is also a Talkback input with adjustable Dim level. Control and switching of a wide range of functions including; monitor level and source, inserts, talkback, sum B>A and mono check, can all be achieved using any standard MIDI hardware control surface. A MIDI learn feature makes setup simple and easy. A pair of user assignable dual action push/hold buttons on the front panel or a foot-switch can also be assigned to the same collection of switching functions.
The Sigma is expected to ship in August 2013, priced at £2799 GBP / $4499 USD / 3359 EUR + VAT or Sales Tax.
More information: Solid State Logic