Modstep has announced a version 1.0.2 update for its music app for iPad.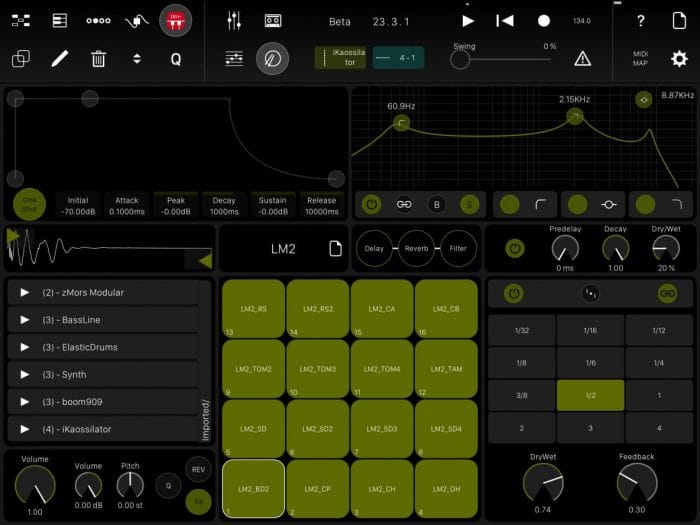 Along with critical bugfixes the new version of the iOS sequencer now adds audio recording, audiobus support, AudioShare, a better performance on all iPads as well as numerous tweaks and enhancements.
Changes in Modstep v1.0.2
Audiobus support: added 8 audiobus output channels
AudioShare export and recording of all tracks (hit the new tapedeck button to record all tracks with internal instruments or IAAs, the files can be found in the /Recordings/ folder and exported to AudioShare or the internal Sampler via the file browser). The recordings are quantized to the current clip quantization.
Improved Reverb.
Massively lower CPU usage especially older iPads will run a lot more tracks now.
IPad 1 support is back (unfortunately it's getting harder and harder to keep it that way!)
New parameter on Sampler 'One Shot' that disables the ADSR completely
Clips, Scenes and Arm, Mute, Solo, Volumes per Track are now MIDI mappable to external controllers.
Tempo Up/Down and Nudge are now MIDI mappable.
CPU meter is much more accurate now and only monitors the audio-thread.
Tracks will now correctly remember their MIDI setup and restore it upon load.
Lots of small enhancements.
IAA Effects load the proper effect now.
IAA Effects will delete/restore fine again.
IAAs show the proper icons in the VST when used with studiomux.
Fixed a bug that would prevent tempo changes when Ableton Link was not activated.
Fixed a bug that would cause wrong IAA fx to be loaded.
Tons of enhancements and other bugfixes.
Fixed Clip & Track Import & Export.
New externally recorded notes and CCs will be played back immediately now.
Modstep is available for purchase for $19.99 USD.
More information: Modstep