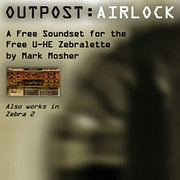 Mark Mosher at Modulate This! has announced the release of Outpost: Airlock, a free collection of sounds for Zebralette and Zebra 2 by u-he.
OUTPOST: AIRLOCK is a soundset made up of patches for U-HE's free freeware synthesizer Zebralette. The patches will also load into Zebra 2.

This themed soundset picks up where "Sounds from a Distant Outpost" soundset left off (which has been downloaded over 2500 times to date) and again takes place at the fictional dark and distant "outpost". This outpost exists in the same "signals universe" as my two albums REBOOT and I HEAR YOUR SIGNALS.

The 12 patches in this soundset will help you experience the journey through the airlock which connects the outer ring of the outpost to the first inner chamber. You might hear creatures along the way so stay alert.
Outpost: Airlock is now available to download from Modulate This! at no cost.
More information: Modulate This!