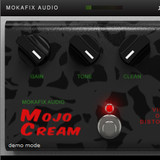 Mokafix Audio has released version 1.3 of its effects plug-ins for Windows.
Changes in v1.3
The number of extra modules used by the plugins has been reduced to the minimum. This let you load more plugins without reaching Windows DLL number quota. (NOTE : you can load unlimited instances of one same plugin since a given DLL is only loaded once in memory).
All plugins have been improved to reduce "thump" noise on loading.
"

Mojo Cream

" has been added to "Cream Tube" package. Mojo Cream is based on an analogue distortion which is actually a clone/mod of the orginal TS overdrive CreamTube is based on. Mojo Cream is purchased along with cream tube as one product. It features the same parameters as CreamTube + a "clean" parameter that let you blend dry and wet signals. The wet signal sounds slightly different from Cream Tube too : internal architecture is almost the same.
Mokafix Audio effect plug-ins are available to purchase for Windows PC, separately or in various bundle.
More information: Mokafix Audio / FX plug-ins