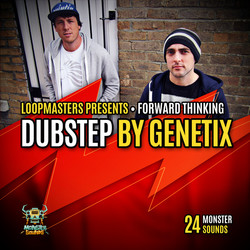 Loopmasters has announced the release of Forward Thinking Dubstep by Genetix, a new Monster Sounds sample pack by Matthew Sharp and Richard Dawson.
Fresh from the GENETIX studio you get the building blocks for some great music, some of the key parts to this pack are the Driving synth loops, infused with a deep tech sound they roll out all day long, giving inspiration to not just dubstep tracks but we suspect cross genre. There's a plethora of deep and dark fx to add instant vibe and intention to any ones production's.

The drums are punchy and crisp, as you would expect from these guys, but the show stealers are the driving percussion top loops that add a whole different almost tribal flavor to any by the book dubstep drums, the pack has a generous 60 loops. Those who love the bass (that's all of us) wont be disappointed, the focus of this pack is more in the sub and low end department and there's some trouser flapping subs and dubbed out synth bass lines to compliment the other aspects of the sound set. The whole pack is backed up with many synth and bass multi sets so you can create your own riffs and flavors.

Finally there is a huge stand out set of vocal loops and one shots from UK MC Skydro, adding both hype sections and phrases to give you more vibes to work with.
The sample pack costs £29.95 GBP. Individual parts are sold separately.
More information: Monster Sounds / Dubstep by Genetix