Moog Music has announced the Claravox Centennial, commemorating the 100th anniversary of the theremin with a celebration of the its past, present, and future.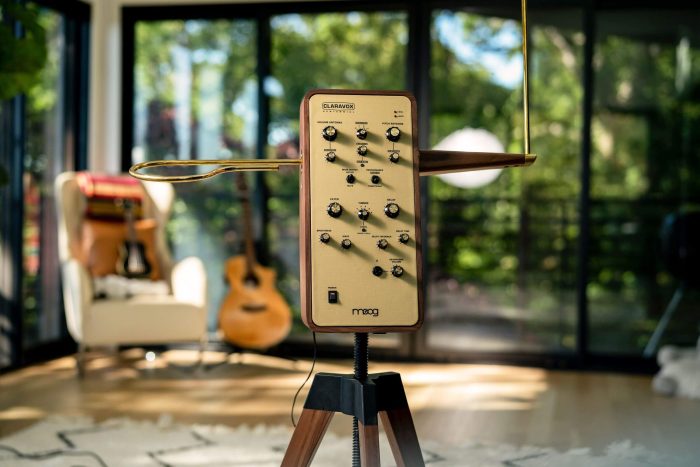 Claravox Centennial is the most versatile Moog theremin in history, designed with exceptional playability to satisfy the most skillful thereminist.
This year marks the 100-year anniversary of Leon Theremin's eponymous invention—an electronic musical instrument that changed the course of music history and ultimately led to Dr. Bob Moog's development of the Moog modular synthesizer. To commemorate this milestone, the world's leading producer of theremins unveils a new limited-edition instrument: Claravox Centennial.

Claravox Centennial is an elite performance theremin developed by Moog Music in celebration of the theremin's past, present, and future. This new offering draws on the company's decades of experience building electronic musical instruments that honor the beauty and simplicity of traditional circuit design while continuing to innovate for creative artists.

Named as a tribute to the original theremin virtuosa, Clara Rockmore, Claravox Centennial offers the highest quality control and sound available in a theremin for today's top performers and aspiring thereminists.
Claravox Centennial features
Pitch Range:

5 octaves (Traditional Mode).
4-7 octaves (Modern Mode).

Sound Sources:

Analog Heterodyning Oscillator (Traditional Mode)
Dual DSP/Wavetable Generator (Modern Mode) fed through Analog Waveshaping Circuit.

Controls:

Theremin Controllers: Pitch and Volume.
Waveshaper: Brightness, Wave, Filter.
Switches for Mode and Mute.
Analog BBD Delay: Delay Amount, Delay Feedback, Delay Time.
Timbre: Timbre Select, Timbre Store.
MODERN Mode only: Octave Range, Quantize Amount, Root/Scale Select, Pitch and Volume Response Curve.

DIN MIDI, USB, and CV inputs and outputs for integrating with DAWs or controlling external sound sources.
Front-panel preset storage for instant recall of your favorite sounds and settings.
Pitch quantization and scale selections.
Dedicated software editor to further expand the instrument's control and sonic capabilities.
Detachable Wooden Pitch Arm, Pitch Antenna and Volume Antenna.
Claravox Centennial will be in production for a limited time only. It is available for pre-order for $1,499 USD, with units expected to begin shipping in December 2020.
More information: Moog Music