Moog Music has announced the availability of a powerful, low-cost semi-modular analog synthesizer. With the legendary Moog sound and quality, the build-it-yourself Mavis delivers serious value in the form of an affordable, compact musical machine.
The 44HP rackable synthesizer features classic analog circuitry, a built-in keyboard, 24 patch points, and an all-analog sound engine complete with Moog's first-ever wavefolding circuit.
On its own, Mavis is an expressive and inspiring analog synthesizer with patchable modular utilities and unmistakable Moog sound and quality. When removed from its enclosure, the instrument becomes a 24-point CV-controllable module (44HP) ready to be installed into any Eurorack setup or Moog semi-modular system. Perfect for first-time users and established synthesists alike, Mavis' semi-modular design and one-octave keyboard allow for immediate musical exploration without the need for additional equipment (except for a speaker or headphones).

Mavis mixes the familiar with the exotic, featuring Moog's legendary oscillator and filter circuits alongside a diode wavefolder—the first analog wavefolder to appear on a Moog instrument. Combining traditional subtractive synthesis with additive wavefolding and oozing with personality, Mavis' clever presentation of synthesis modules and utilities makes for intuitive, creative experimentation and musical connection.
Users of any skill level can quickly build their analog synthesizer with minimal tools and experience, no soldering required.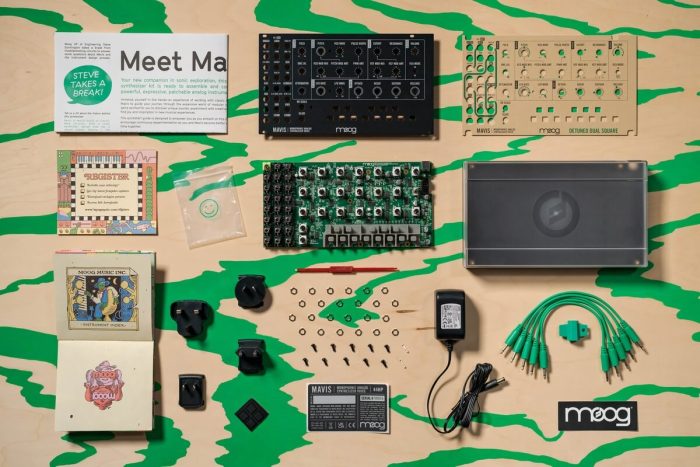 Mavis features
24-Point Patch Bay: Mavis is eager to play along with other voltage-controlled devices (especially with Moog's other semi-modular instruments: Mother-32, DFAM, Subharmonicon, Grandmother, Matriarch). Its useful collection of utilities and flexible control voltage routing allows for intricate dialogue between them.
Full Range Analog Oscillator: Mavis's Voltage Controlled Oscillator (VCO) with pulse-width modulation (PWM), waveform mixing, and mod source mixing delivers rich harmonic character and motion.
Voltage Controlled Filter: Sculpt your sound with the -24dB Moog Low Pass Ladder Filter, delivering the sonic power behind the distinct sounds of Moog basslines and leads.
Audio Rate LFO and 4-Stage Envelope Generator: Mavis uses crossfaders in its modulation routing instead of switches, allowing you to blend between a variable shape LFO and 4-stage envelope generator for interesting and unusual modulation contours.
Wavefolding and Modular Utilities: Mavis features Moog's first-ever wavefolding circuit, allowing for additive synthesis to sit alongside traditional subtractive synthesis, unlocking sounds not heard from a Moog before. Mavis also features a broad modular utility section complete with attenuators, offsets, mults, and a flexible DC-coupled mixer providing the tools needed for creative patching and sound design.
Patchable Sample and Hold (S+H) Circuit: This circuit generates a random CV pattern that can be patched to modulate other parameters, including setting Mavis into a "random sequencing" mode of performance.
Mavis is available to purchase for $349 USD. The kit includes a fitted protective cover for use during studio downtime or taking your instrument on the go.
More information: Moog Music