Moog Music has announced the Moog Matriarch, a new analog synthesizer with an emphasis on imagination.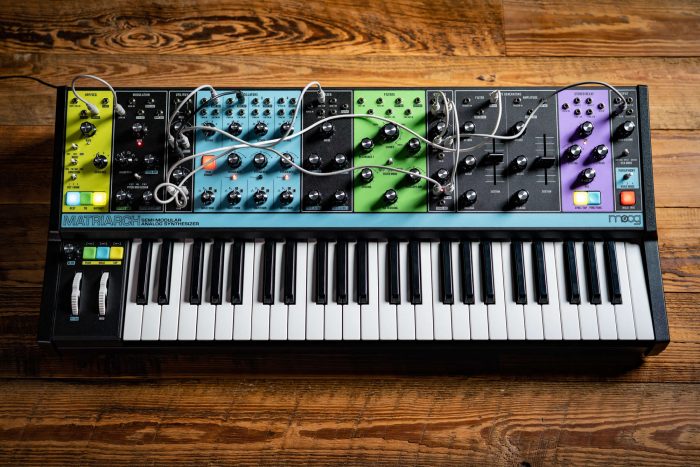 Moog Matriarch is a patchable 4-note paraphonic analog synthesizer with a built-in Sequencer, Arpeggiator, stereo Ladder Filters, and stereo Analog Delay.

Capable of creating rich evolving chord patterns immediately with "no patching required", Matriarch invites access to an abundance of inspiring textures, new sounds, and an endless supply of happy accidents through its 90 modular patch points.

Based on the vintage circuitry of classic Moog synthesizer modules, Matriarch is a catalyst for creative ideas and a medium for multidimensional expression.
Matriarch features
Mono, duo, and 4-note paraphonic playability.
Stereo analog delay w/ up to 700ms of MIDI sync-able stereo or ping/pong style repeats.
256 step sequencer w/ up to 4 notes per step and 12 stored patterns. Can be decoupled from Matriarch to independently sequence external gear.
Arpeggiator with selectable modes (Order, Forward/Backward, Random).
Semi-modular analog synthesizer – no patching required.
90 modular patch points for endless exploration
Expressive 49-note Fatar keyboard w/ patchable velocity and aftertouch.
4 analog oscillators w/ selectable waveshape and hard sync per-oscillator.
Full-range analog LFO with 6 selectable waveshapes.
Dual analog filters with parallel (HP/LP), stereo (LP/LP), and series (HP/LP) modes available.
Dual analog ADSR envelopes.
Dual analog VCAs.
3x bipolar voltage controlled attenuators with ring mod capability.
2×4 parallel wired unbuffered mults.
Additional simple analog LFO useful for adding modulation to delay, filters and VCAs.
1/4" external audio input for processing guitars, drum machines, and more through Matriarch's analog circuits.
Stereo ¼" and 3.5mm Eurorack level audio outputs.
The Matriarch semi-modular analog synthesizer is available for preorder for $1,999 USD. It will ship in Summer of 2019.
Continuing its tradition of debuting new synthesizers at Moogfest (Minimoog, Subsequent 37 CV, Grandmother), Moog Music will be offering a Sneak Peek of Matriarch to the public this Weekend at Moogfest 2019.
More information: Moog Music