Moog Music has launched its new website featuring the Moog Sound Lab performance series, a brand new Legacy page with information shared by The Bob Moog Foundation, and more.
On the cusp of Moog Music's 61st anniversary, the North Carolina-based company is embarking on the next chapter in its history, breaking new ground in an industry it pioneered, via a fresh brand identity and all-new website that supercharges the storied brand and its unique electronic instruments used by millions around the world.

"We are excited to be launching our new website. The website is our launching pad into a new era of innovation. It coincides with the completion of our new factory in downtown Asheville, new product introductions, new projects and new partnerships. We are extremely optimistic about the future of Moog Music and the continuing support we receive from our fantastic customers," said Mike Adams, president of Moog Music.

"The new MoogMusic.com not only gives our fans a vibrant, easy to navigate and entertaining environment to learn about the history and relevance of Moog products and our legendary founder Bob Moog, but also to see and hear first hand how other artists are engaging their creativity and imagination to optimize the unlimited potential of electronicsound," Adams added.

The feature-packed new website presents a modern, energetic new take on the iconic Moog Music brand. The new look-and-feel represents not only a celebration of the company's 61 years of innovative music making, but also a stepping stone to an online aesthetic with an even greater global reach.

The new website is highlighted by extraordinary content designed to help visitors quickly find the Moog products they seek. The site's Moog Sound Lab was created to provide an entertaining and insightful look at how some of today's most respected (and up and coming) artists craft their sounds in a studio jam-packed with Moog gear. The first Moog Sound Lab video features The Dandy Warhols, with new musicians featured every other Monday.

The sites new Legacy section beautifully illustrates the rich history of Bob Moog and Moog Music, and includes a 10-minute mini-documentary on the history of the Minimoog and a look at the legacy of Moog Music founder Bob Moog in sound and pictures. The site also features all-new product demo, sound and image galleries,dealer info and product support pages.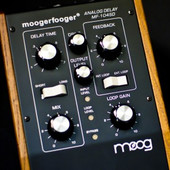 Visitors to the new Moog Music website will have the opportunity to create an account on the website for a chance to win a Moogerfooger MF-104SD.
When you create an account on moogmusic.com not only will you be able to get the fullest experience out of the new Moog website, you'll also be automatically entered to win Moog's last remaining Moogerfooger MF-104SD.

Limited to a run of 250, the MF-104SD can bend time with a full 1.4 second delay.
More information: Moog Music