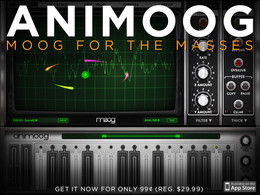 Moog has announced the release of Animoog, its first professional synthesizer designed for the iPad.
Powered by Moog's new Anisotropic Synthesis Engine, Animoog captures the vast sonic vocabulary of Moog synthesizers and applies it to the modern touch surface paradigm, enabling any user to quickly sculpt incredibly fluid and dynamic sounds that live, breathe, and evolve as you play them.
Animoog features
Anisotropic Synth Engine (ASE) – An exciting new Moog technology that allows the user to move dynamically through an X/Y space of unique timbres to create an expressive and constantly evolving soundscape.
Timbre page – Assemble unique sounds in the X/Y space from timbres of a wide variety of vintage and modern Moog synthesizers and pedals. Note: this is NOT simple sample playback.
Polyphonic Modulation – Simply slide your fingers to control multiple modulation parameters in Animoog right from the keys.
Polyphonic Pitch Shifting – Easily manipulate the exact pitch of each note in a chord by rotating or sliding your fingers.
Delay Module – A classic analog style ping pong delay.
Thick Module – From bit crushing to unison voice detuning and drive, this module adds depth, edge and character to Animoog's already massive sound palette.
Moog Filter – The classic four-pole Moog ladder filter with High Pass, Low Pass and Band Pass modes.
Record Module – Record your performance and overdub new layers, or play along live. Transfer recordings between Animoog and any other apps which support AudioCopy/AudioPaste
Path Module – Direct ASE through Animoog's X/Y space to create new expressive and shifting sounds that will blow your mind!
Orbit Module – Control the rate of orbit in the X/Y space around the path you created for subtle to insane voice manipulation.
Flexible Modulation Matrix – Amp, Filter and Mod Envelopes, LFO with infinitely variable wave shapes and sync, and four super flexible and assignable modulation slots.
MIDI in/out – Use your Little Phatty or any other MIDI controller to control Animoog.
Animoog for iPad is available to purchase for 99¢ for the next 30 days (regular $29.99 USD).