Overloud has announced the release of the Dusty Racks Vol. 2 expansion library for REmatrix, featuring a new collection of forgotten reverb units with unique sound.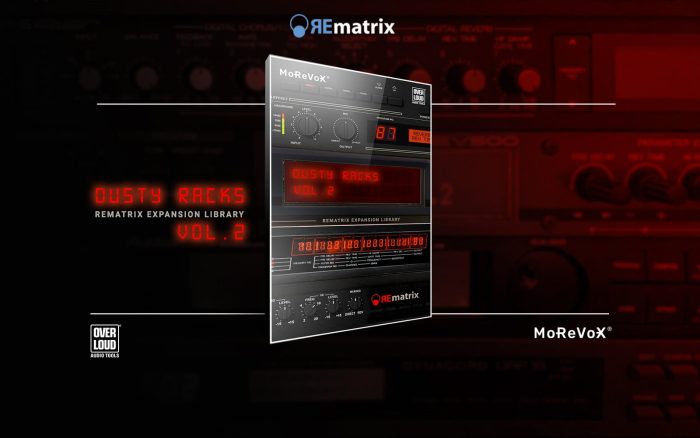 There were a huge number of reverb processors created in the '80s and '90s: most of them are practically unknown, even though they sounded really interesting. For those reasons they are valuable tools for achieving unique sounds today.

Overloud and MoReVoX continue their partnership and release Dusty Racks Vol. 2, a REmatrix reverb library which based on 6 of these forgotten units.

The presets – as ever – have been created during real mix studio sessions with a particular focus on vocals, keyboards, synth, drums as well as acoustic instruments.
Dusty Racks Vol. 2 features 350 IRs and 207 individual presets, created by capturing 6 of the most unique units:
Yamaha REV500* (92 IRs).
Alesis Midiverb* II (43 IRs).
Lexicon 300* (129 IRs).
Pioneer SR-101* (9 IRs).
Roland DEP-5* (39 IRs).
Korg DRV2000* (38 IRs).
IRs have been recorded using Neve and SSL preamps, and carefully edited all of the impulses to ensure they were consistent throughout the entire library.
The impulses are divided into two banks: one bank made with single IR presets, designed to replicate the original vibe, and second multi-layer bank where the presets combine two or more IRs from different units layered together, extending the tonal palette and creating some really unprecedented reverb spaces.
Dusty Racks Vol. 2 is on sale for the intro price of 49 USD/EUR until June 29th, 2020 (regular 79 USD/EUR). It is available as a REmatrix expansion library and it can be used with the free REmatrix Player as well.
More information: Overloud