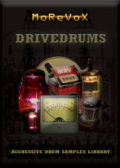 Morevox has released DriveDrums, a drum sample library.
Distortion is at the center of an exciting sound. Morevox DRIVEDRUMS has been developed by generating distortion through different kind of devices. Vacuum Tubes, Analog Tapes, Preamps are been used to create samples with light to aggressive and violent distortion.

Morevox DRIVEDRUMS contains RICH and FAT natural acoustic sounds ideal for every kind of music. All samples are been tested on mixes and optimized for re-triggering and stand alone use.
DriveDrums features
124 instruments (800 24bit/44.1khz samples), with 1 to 16 layers (up to 4 sample variations per layer).
Over Samples — based on distortion; the samples have been developed finding their character in conjunction with the hardware distortion (Valve/Console Preamps, Analog Tape Saturation, Heavy Valve Compression, Dedicated distortion outboard).
30 Kicks, 30 Snares, 8 Toms Racks, 30 Cymbals.
Drive Samples — developed starting from the classic hardware harmonic distortion , so all the samples contain a smoother distortion character (Tape compression warmth, subtle valve saturation).
Formats : Drumagog, DrumRehab, Raw Wav, Battery3.
DriveDrums is available now on DVD ($129 USD) and as a digital download ($99 USD). Check here for some audio demos.
Visit Morevox for more information.