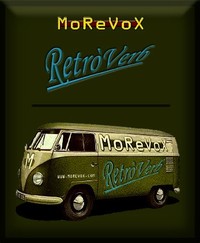 Morevox has released version 2.0 of RetròVerb, an impulse response library.
In the v.2.0 we have experienced the IRs sampling to Reel Tapes; From this experience we have created the "Classic Drive" category that exhibits an OUTSTANDING and UNPARALLELED IRs sound quality with Solid Low End, Rich Mids and Creamy Highs.
Changes in RetròVerb 2.0
3 new IRs Categories : Surround, Classic Drive, Combo-Amb
125 new IRs, total of 250 high quality IRs
The Free edition now include 8 fully working IRs
RetròVerb is designed for TLSpace but is fully compatible with all convolution reverb plug-ins (i.e. Altiverb, Space Designer).
RetròVerb 2.0 is available for download for $79 USD (RetròVerb 1.x users can upgrade for $29 USD).
Visit Morevox for more information, audio demos and a link to download the free pack of 8 impulse responses.