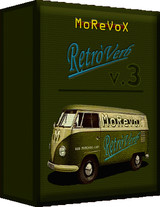 Morevox has released version 3.1 of RetròVerb, a reverb impulse response library.
MoReVoX RetròVerb is an innovative Impulse Response Library. It's designed to create Warm and Deep Reverberations textures. MoReVoX RetròVerb 3 sounds like a New Top Class Rev Hardware Unit with an ORIGINAL TOP SOUND QUALITY.

MoReVoX RetròVerb contains exclusive Real Spaces Reverbs IRs, Real Vintage Plates IRs, Vintage Reverberation Units IRs and Custom Made MoReVoX IRs. Since the v.2.0 we have experienced the IRs sampling to Analog Tapes; From this experience we have created the "Classic Drive" category that exhibits an OUTSTANDING and UNPARALLELED IRs sound quality with Solid Low End, Rich Mids and Creamy Hights . The V.3.0 contains 200 NEW Classic Drive IRs. All the IRs are edited and mastered in M/S mode to guarantee an extraordinary sound definition and spaciousness.
RetròVerb 3.1 now includes 50 additional IRs in the new "Dense Verbs" category, a mix of fat big dense verb with controlled tail and rich early reflections.
RetròVerb 3.1 is available to purchase for $69 USD. The update is free for RetròVerb 3 users, and $19 USD for users of earlier versions. A Free Edition (includes 10 IRs) is available to download from Morevox.