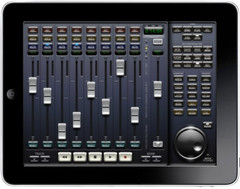 MOTU has announced it is now shipping Digital Performer 7.11, the digital audio workstation software for Mac.
This maintenance release includes expanded control surface and MIDI device configuration options, improved waveform overview construction, and more, as well as features and enhancements first introduced in DP 7.1 and earlier.

Improved control surface configuration options enable the use of applications such as Saitara Software's AC-7 applications for iPhone and iPad.
Changes in Digital Performer v7.11
Control Surface Setup

— When configuring control surfaces in the Control Surface Setup dialog (Setup menu), the Input Port and Output Port of each device can now be specified independently. This provides additional flexibility when making device connections, and provides compatibility with certain kinds of hardware and software control surfaces which specify different ports for input and output.

MIDI Device Configuration

— Menus which display MIDI input or MIDI output connections now display all ports, even if the port does not have a connection to a device in Audio MIDI Setup. This provides quicker configuration of devices which connect directly to the computer and do not require any further configuration in Audio MIDI Setup, such as many USB MIDI controllers. MIDI ports which do not have a device connected to them will be listed in the "Unconfigured Ports" sub-menu.

Other Changes

: Improvements, optimizations, and refinements can be found in the following areas:

Analysis: waveform overview construction.
Editing: bite volume editing; Chord Symbol and Lyrics operations; sync point editing in Event List; Audio Mute event editing; Poly Aftertouch editing.
Effects: display of automation events for MAS plug-ins; response of MAS instruments to received notes.
Mixing Board: indication of record status.
Drum Editor: saving pitch groups.
Import & Export: saving templates; dragging clippings into the Conductor track; certain Bounce to Disk operations; saving Selection time format; population of Recent Files menu; drag and drop audio file export.
Miscellaneous: checking for updates; operations involving read-only files or volumes; Information Bar configuration; handling of missing fonts; Auto-Scrolling; responsiveness of controls and value fields; playback of ReWire slaves; recall of window sets; instrument sidechain outputs.
The Digital Performer version 7.11 updater is available for Digital Performer 7 users.
More information: MOTU / Digital Performer