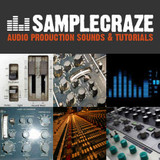 Samplecraze has announced the launch of its Audio Production Tutorials, a new series of video tutorials.
There are already many Samplecraze students around the world improving their audio skills via 1-2-1 Tuition, but now Samplecraze are offering a new series of pre-recorded audio production tutorials so that everyone can reap the benefits. They say a picture is worth a thousand words, so a video tutorial must be one of the most effective teaching methods ever devised!

The first in the series of covers Audio Compression. Used but often misunderstood, compression has deluded many beginners and pros alike, but now you can not only learn what it is, but also how to use it, when to use it, the different types of compressors and so on. What lifts this Samplecraze video tutorial above so many books and magazine articles on the subject is that you can hear how audio tracks alter as the various controls are changed and various different types of compression are applied, training your ears so you can achieve similar improvements on your own material.
The video tutorials are available to download for £5.99 GBP each. Some free videos are available as well.
More information: Samplecraze