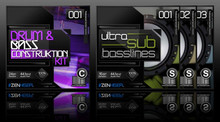 Zenhiser has released some new samples packs: Drum & Bass Construktion Kit and three Ultra Sub Basslines packs.
Drum & Bass Construktion Kit
The Drum & Bass Construktion Kit is the sixth release to hit the construction kit shelves of Zenhiser and this one comes with a warning, "These drum & bass samples may play havoc with your speakers due the overwhelming desire to crank up the volume too high whilst previewing!"

When it comes to drum & bass construction kits this collection of samples & loops will absolutely blow your mind. 374 brand spanking new and exclusive drum n bass beats, synth loops, top lines, sound fx, basslines and a whole lot more. All in 24 bit goodness and categorized for fast and easy previewing and playing.

If you like your drum & bass beats to tear up speaker stacks, synth lines to mesmerize clubbers, drum & bass drum sounds to create spine tingling rhythms and d&b basslines which cause repetitive strain neck injuries from too much rocking then you can't do any better than 'The Drum & Bass Construktion Kit', it's that bloody good!
Ultra Sub Basslines
Sometimes creating a new groove can be challenging and sometimes we would like sit back and have those bass grooves created for us. Sometimes we want that bassline to rumble, and I mean rumble. Well that's what 'Ultra Sub Basslines' is all about. 120 total brand spanking new basslines designed to do one thing, deliver an awesome sub rumbling bass line to your tracks!

Designed to impress and deliver killer sub frequencies, these sub basslines are a must for electronic music producers. Chopped perfectly with bpm listed in the bassline name you can be using these basslines in minutes.
The Drum & Bass Construktion Kit is available to purchase for $34.99 AUD, the Ultra Sub Basslines sample packs are $8.99 AUD each.
More information: Zenhiser