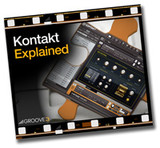 Groove 3 has released Kontakt Explained, a tutorial video on Native Instruments Kontakt.
Watch DAW guru Eli Krantzberg break down one of the most vast and powerful soft samplers ever made, Native Instruments Kontakt. From beginning to end, it's all here, waiting for you to use to get the most out of Kontakt.

This in-depth series is for beginner to intermediate users of Native Instruments Kontakt and dives deep into its powerful features and functions. Discover how to easily navigate its windows and menus, load and create patches and parts, use effects, import and convert 3rd party libraries, advanced usage techniques, tips and tricks and much more.

If you want to get the most out of Native Instruments Kontakt, stop right here."Kontakt Explained" will allow you to use Kontakt like a pro, making your music and productions bigger and better. Checkout "Kontakt Explained" today.
Kontakt Explained features
25 tutorials / Over 3.5 hours total runtime.
For all beginner to intermediate Kontakt users.
Shot with the latest version of Kontakt 4.
Tutorials written by DAW guru Eli Krantzberg.
Simple to use video control interface for Mac & PC.
Kontakt Explained is available to purchase as a 30-day "Watch It Online" product for $19.99 USD, $29.99 USD for a download, or $34.99 USD for the Boxed Disc (includes instant download version).
More information: Groove 3 / Kontakt Explained