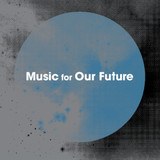 Music for Our Future is a special compilation inspired by the SyFy original series, Caprica.
Peter Kirn writes:
Working with music production today is a bit like science fiction. It's fitting that visions of technology's promise, menace, and humanity would inspire electronic music.

Create Digital Music, XLR8R, and Pitchfork got to join together with TV network SyFy to curate a free, 13-track compilation of "Music for Our Future." Inspired by the world of SyFy's new TV series Caprica, which is set just before the recently-concluded Battlestar Galactica, this is science fiction as the familiar. It's the near future, not simply fantasy.
The full compilation is available to download for free, exclusively at: http://www.xlr8r.com/musicforourfuture
The compilation includes tracks by Lusine, Willits & Sakamoto, The Field, Richard Devine, and more. Also features some exclusive material by White Rainbows, Nice Nice, and CDM's Peter Kirn, who also talks to some of the artists to find out what inspired them and which techniques were used for these tracks.
More information: Create Digital Music