MusicLab has released version 4 of RealEight, a virtual guitar instrument for Windows and Mac.
RealEight 4 now features a chording/strumming engine, which can be used for creating rock/metal riffs & leads and harmonic guitar parts in a wide range of rock/pop music styles.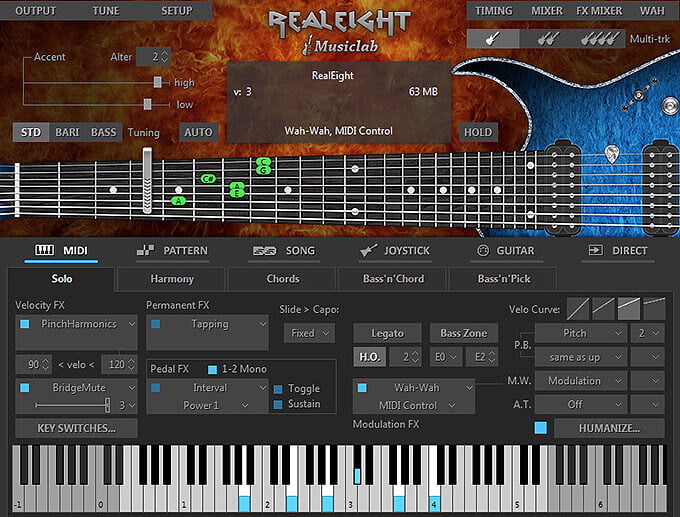 RealEight provides incredible playability based on easy-to-use keyboard layout as well as the advanced key/pedal/velocity switch system allowing a keyboardist to perform guitar parts with a whole new level of realistic expression.

RealEight covers practically all sounds, articulations, and techniques a professional guitarist can produce on his 8-string electric guitar, including mute, bridge mute, harmonics, pinch harmonics, sliding, scraping, etc…
Changes in RealEight v4
7 string Baritone guitar tuning (F#-B-E-A-D-f#-b).
Chord detect/construct system.
Chord Editor.
Guitar Pattern Library.
Pattern Manager.
Solo, Harmony, chords, Bass&Chord, Bass& Pick performance modes.
Pattern, Song, Joystick global modes.
Interval FXs: 4th up, b5th up, PowerChord 3 (b5th+#4th).
Drop Bass option in Bass&Chord, Bass&Pick, Joystick, Song modes.
RealEight 4 for Windows and Mac (VST/AU/AAX) is available for purchase for $199 USD. Owners of a previous version can upgrade for $49 USD.