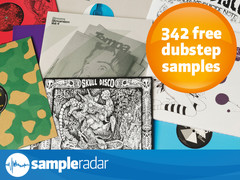 MusicRadar has launched SampleRadar, a new weekly giveaway of pro-quality, royalty-free samples.
We'll be offering you loops, hits and multisamples in a wide range of genres, and you won't have to pay a penny to download any of them.

Our first theme is dubstep, the much-talked-about style that features elements of garage, grime and 2-step. One of the great things about dubstep is that you don't need loads of gear to create it – in fact, many of the scene's most prominent producers make their music at home using little more than a computer and some software.

This being the case, pretty much anyone can try their hand at dubstep, but to give you a leg-up, MusicRadar is offering you 342 royalty-free samples for nothing.
More information: MusicRadar