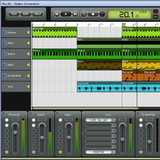 Mutools has released version 2.7 of MU.LAB, a music production software for Windows and Mac.
MU.LAB is an alternative, state of the art software application for OSX and Windows, transforming your computer into a real music studio!

It does not overwhelm you with a complex feature set, in which you can get lost.

On the contrary, MU.LAB is a user-friendly yet rock-solid musical tool designed to create, finetune and play Your Music!
Changes in MU.LAB v2.7
Tuned: Session file upgrading towards the forthcoming MU.LAB 3.
Fixed: Crash bug when zooming in very much in composition with automation parts.
Fixed: DragDrop non VST plug-in files on a rack slot could cause a crash.
Fixed: Mac OS X: Crashed when using an audio device with more than 32 inputs or outputs.
MU.LAB Free is available to download for PC and Mac, while MU.LAB Unlimited is available to purchase for 49 EUR.
More information: Mutools