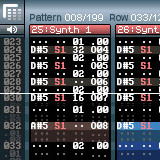 Chris Nash has released version 1.4.1 of reViSiT Standard Edition, a free tracking software for VST hosts.
After a long wait, I've finally managed to update the free Standard Edition to include all the changes and fixes seen in reViSiT Professional, and am thus delighted to announce reViSiT 1.4.1 Standard Edition, the first official public release of the free edition.

See here for a comparison of the features in each edition. In comparison to the last free release, 0.94 Beta, this update adds several features (customisable keys, sample & instrument libraries, info bar, mouse support, documentation) plus 2 years worth of refinements and fixes.
reViSiT Standard Edition is available as a free download for Windows.
More information: reViSiT