Native Instruments has announced a close partnership with Scarbee, creator of highly renowned instrument libraries.
In the future, sampling mastermind Thomas Hansen Skarbye will work directly with the team behind the industry-leading KONTAKT sampler on further software instruments that will offer the typical outstanding authenticity and playability of the Scarbee brand. Existing Scarbee products will be successively relaunched as self-contained instruments that will be maintained and distributed by Native Instruments.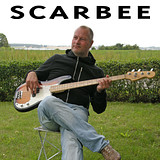 The press release continues:
The electric piano and electric bass libraries from Scarbee have set a recognized standard for the emulation of these instruments, and have become a mainstay of professional studio productions worldwide. Based on the combination of extremely sophisticated sampling and completely authentic instrument articulations that are intuitive to use for musicians and producers alike, Scarbee products rely strongly on the unparalleled sound shaping and scripting functions of KONTAKT.
By settling into a partnership with Native Instruments, Thomas Hansen Skarbye can now focus completely on the creation of further software instruments that will complement the existing Scarbee range, and eventually extend it into new sonic domains. Close collaboration with the NI product design and development team will allow him to utilize all existing and upcoming features of KONTAKT to the fullest extent.
Starting in September, existing Scarbee products will be successively relaunched in "KONTAKT-Powered" format, turning them from sample libraries into self-contained instruments that provide playback and sound shaping functionality without requiring the full-featured KONTAKT sampler. In the process, the products will transfer into the NI product portfolio, and will become available for download purchase on the Native Instruments website.
"This partnership is an ideal match in every way", says Sascha Kubiak, Director of the Producer Division at Native Instruments. "The Scarbee libraries have contributed a lot to the attractiveness of the Kontakt platform, and we are looking forward to work with Thomas and raise the bar with further outstanding electric instrument emulations."
"This collaboration is a big step forward both for me and for all Scarbee fans", says Thomas Hansen Skarbye, founder of Scarbee. "Working directly with the NI team will allow me to capture and recreate more of these classic instruments, and to really get the maximum out of Kontakt for this purpose".
More information: Scarbee / Native Instruments