Native Instruments has announced TRAKTOR AUDIO 6 and TRAKTOR AUDIO 10, the second generation of its acclaimed DJ audio interface range.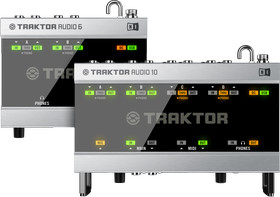 With expanded connectivity and additional features for club use, the new models can meet and exceed all professional requirements of digital DJing – both as the hardware centerpieces of the new TRAKTOR SCRATCH generation and as highly versatile audio interfaces for any DJ or music production software.
With 6 respectively 10 analog inputs and outputs, the AUDIO 6 and AUDIO 10 both offer two additional channels over the previous AUDIO 4 and AUDIO 8 models. Even when all decks of the TRAKTOR software are routed to individual channels for external mixing, a further stereo I/O remains available – for potential use with the Loop Recorder and Sample Decks, as a dedicated effect send/return, to record an externally mixed set back into TRAKTOR, or for other creative routing purposes.
With their 24bit/96Khz Cirrus Logic converters and powerful +12 dBu output volume, the AUDIO 6 and AUDIO 10 maintain DJ-specific audio characteristics, with signal quality further enhanced through improved electrical engineering. The improved high-visibility LED indicators also allow for clearer and more intuitive monitoring of the signal chain even in low-light club environments.
A further advantage of the AUDIO 6 and AUDIO 10 is the new "Direct Thru" bypass function, which can be toggled individually per channel remotely from the computer. In a typical club setup, an engaged "Direct Thru" passes the signal of the turntable or CD deck directly to the hardware mixer, even with no computer attached. This allows for convenient switchovers between successive DJ sets, and makes the new interfaces especially suitable for permanent club installation.
AUDIO 6 and AUDIO 10 also include TRAKTOR LE 2, a new entry-level DJ software based on the latest TRAKTOR PRO 2 generation. With two decks, an efficient sync function as well as versatile looping and effect functions, TRAKTOR LE 2 is an ideal entry into digital DJing.
The ultra-compact AUDIO 2 DJ interface continues to be available without any technical changes under the new name TRAKTOR AUDIO 2, and also comes bundled with the new TRAKTOR LE 2 software.
TRAKTOR AUDIO 6 and TRAKTOR AUDIO 10 will be available April 2011 for a suggested retail price of $279/249 EUR and $449/399 EUR respectively.
More information: Native Instruments / Traktor