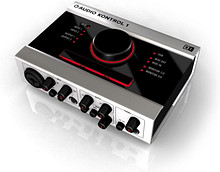 Native Instruments is offering a free copy of one of four its synthesizer products with the purchase of AUDIO KONTROL 1, a high-end audio interface.
The high-end audio interface is now a better value than ever thanks to the incredible bundle of software it comes with. Starting immediately, any AUDIO KONTROL 1 purchased online or at retailers includes a voucher entitling you to take your pick from MASSIVE, FM8, ABSYNTH 4, or PRO-53 synthesizers – an additional value of $229 / 199 €! Plus, you still benefit from the already-included software GUITAR RIG 3 LE, TRAKTOR 3 LE, KORE PLAYER (with included KORE SELECTION SOUNDPACK), and CUBASE LE 4.
AUDIO KONTROL 1 features
High-quality, portable audio interface with sturdy aluminium casing.
24-bit / 192 KHz quality, high end Cirrus Logic® A/D, D/A converters and 103 dB-A SNR.
2 balanced inputs: 1 line/mic (XLR/1/4″ TRS Neutrik, phantom power supplied) and 1 line/HiZ (TRS); individual gain controls with acitvity and clip LEDs.
4 balanced outputs (1/4″ TRS ) with two stereo level controls.
Headphone output with A/B source switching and level control.
Direct monitoring with mono switch and mix control.
Low latency ASIO/Core Audio driver.
USB 2 bus powered, MIDI I/O.
3 freely-assignable buttons and 1 controller knob. MIDI and key commands support for control of professional audio software and other media applications such as iTunes, Winamp or Final Cut Pro.
Includes one NI synthesizer of choice (MASSIVE, FM8, PRO-53 or ABSYNTH 4) plus TRAKTOR 3 LE, GUITAR RIG 3 LE, KORE PLAYER with "KORE SELECTIONS Library", plus CUBASE LE 4!
AUDIO KONTROL 1 is available for 279 EUR.
Visit Native Instruments for more information.