Wallander Instruments has released Saxophones 1 & 2, two WIVI powered instrument collections.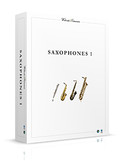 Saxophones 1 includes the four most popular saxophone types of our day, the soprano, the alto, the tenor and the baritone.
The tenor is arguably the most popular and well-recognized saxophone of our day, along with the more soft-spoken alto. In saxophone quartets, the tenor regularly plays the most prominent role due to its distinct tone.
Saxophones 1 features
Soprano Saxophones 1-3
Alto Saxophones 1-3
Tenor Saxophones 1-3
Baritone Saxophones 1-3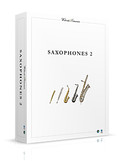 Saxophones 2 is a collection which extends the range of the saxophone family with the sopraninos and bass saxophones.
Due to the 1929 Wall Street financial crash, the once so popular C melody, mezzo-soprano and C soprano saxophones were dropped from production. These once so popular non-transposing instruments virtually disappeared by a cruel twist of fate.

Nonetheless, these instruments have a unique voice of their own. Hidden gems in this collection is the edgy mezzo-soprano, and the C melody – a driving force in the 1920s, closely related to today's tenor.
Saxophones 2 features
Sopranino Saxophones 1-3
C Soprano Saxophones 1-3
F Mezzo-soprano Saxophones 1-3
C Melody Saxophones 1-3
Bass Saxophones 1-3
Saxophones 1 is available for Windows and Mac (VST/AU/RTAS) for 299 EUR. Saxophones 2 costs 219 EUR.
Visit Wallander Instruments for more information and audio demos.