Native Instruments has announced the launch of a Thanksgiving sales special, offering 50% off selected KOMPLETE Instruments and Effects, MASCHINE Expansions, and TRAKTOR PRO 2.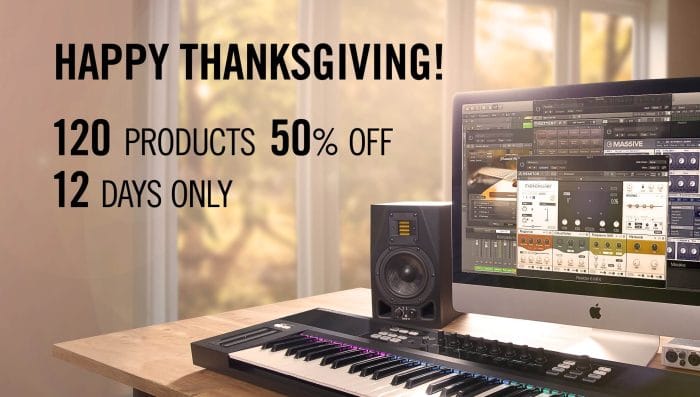 Products on offer from the KOMPLETE range include KONTAKT-based instruments such as the perfectly strummed and recorded patterns of SESSION GUITARIST – STRUMMED ACOUSTIC, the expressive melodic string phrases of EMOTIVE STRINGS, the cutting-edge drum sampler BATTERY 4, and the world's most advanced sampling platform itself – KONTAKT 5. A selection of acclaimed synthesizers like MASSIVE and MONARK provide electronic musicians with NI's cutting-edge synthesis technology. And powerful studio and creative effects like the modular effect system MOLEKULAR provide additional sonic versatility for all stages of the production process. All KOMPLETE Instruments and Effects integrate seamlessly with MASCHINE, providing direct access to instrument parameters from within the MASCHINE browser.

During the sale, MASCHINE users can get new sounds with some of the latest production-ready MASCHINE Expansions. The larger-than-life mainstream hip hop of GOLDEN KINGDOM, the reverb-drenched ambient electronica of HALCYON SKY, and the sultry future soul rhythms of VELVET LOUNGE are just some of the MASCHINE Expansions available for half the price.

Customers can also get the flagship TRAKTOR PRO 2 software for 50% off during the sales special. TRAKTOR PRO 2 is the pro DJ software trusted by top DJs worldwide, offering up to four virtual decks, intuitive looping and cueing functionality, and a wide range of over 40 effects.
This year, TRAKTOR PRO 2 became the world's first pro DJ software to support the Stems multi-channel audio format that opens the door to spontaneous on-the-fly edits, mash-ups, a cappellas, and more.
The sale ends December 7th, 2015.
More information: Native Instruments