Native Instruments has announced its Thanksgiving Sale, offering a 50% discounted on selected products.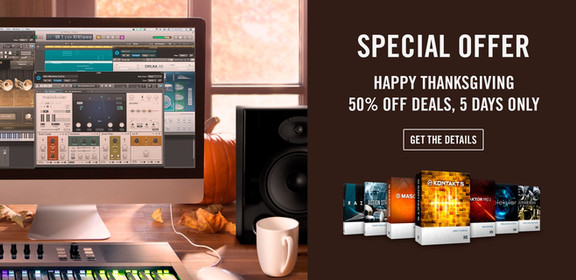 For a limited time only, save 50% on selected KOMPLETE Instruments and Effects, the MASCHINE 2 software update, and TRAKTOR PRO 2.

Products on offer from the KOMPLETE range include KONTAKT instruments such as the pristinely sampled SESSION HORNS PRO, the orchestral percussion instrument ACTION STRIKES, the innovative cinematic build-up instrument RISE & HIT, and the surreal and inspiring KINETIC METAL. A selection of synthesizers such as MASSIVE, REAKTOR, and RAZOR provide electronic musicians with NI's cutting-edge synthesis technology.
Powerful studio and creative effects such as the compressor SUPERCHARGER GT and the modular effect system MOLEKULAR provide additional sonic versatility for all stages of the production process. All KOMPLETE Instruments and Effects integrate seamlessly with MASCHINE, providing direct access to instrument parameters from within the MASCHINE browser.

MASCHINE users who haven't updated to the MASCHINE 2 software can get the MASCHINE 2 software for $49.50 / 49.50 € / ¥ 5,900.00 / £44.50 / AU$ 74.50 during the Thanksgiving sales special. MASCHINE 2 includes the sonically-outstanding MASCHINE Drum Synths, new mixer, plug-in strip, and much more. The latest update adds a new scale and chord engine, a powerful arpeggiator, and KOMPLETE KONTROL S-Series keyboard integration. It also unlocks the touch-sensitive knobs on MASCHINE STUDIO for an accelerated, touch-and-see workflow.

Customers also get TRAKTOR PRO 2 for $49.50 / 49.50 € / ¥ 5,900.00 /
£44.50 / AU$ 74.50 during the sales special. TRAKTOR PRO 2 is the industry-leading DJ software, offering DJs up to four virtual decks, intuitive looping and cueing functionality, and a wide range of over 30 effects. Integrated Remix Decks technology allows instant looping and sampling for on-the-fly remixes.
This special offer is valid from November 27th to December 1st, 2014.
More information: Native Instruments