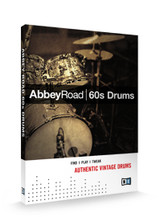 Native Instruments has released Abbey Road 60s Drums, the first of Native Instruments' collaborations with Abbey Road Studios London.
This KONTAKT Instrument delivers expressive acoustic drums that combine detailed realism with flexible and nuanced control. Containing no emulations or acoustic modeling of any kind, this instrument consists entirely of high-quality samples of two vintage kits – beautifully recorded with period equipment in Abbey Road's legendary Studio Two. The sound of ABBEY ROAD | 60s DRUMS can be easily molded from within the instrument itself, going from vintage to modern and taking in all points between.
Abbey Road 60s Drums features
Two highly sought-after vintage drum kits:

The Gretsch round badge White Marine Pearl (Jasper Shell) from the early 60s includes a 24" kick drum, one 13" and one 16" tom.
The second kit is a Ludwig Hollywood from 1967 with a 22″ kick, and 12″, 13″ and 16″ toms.

Snare drums include a Ludwig chrome Supra-phonic 400 (1966), Ludwig wooden jazz Festival (1966), Ludwig Mahogany (1959) and Slingerland Radio King (1964).
A selection of vintage Zildjian cymbals were used from the early and late 60's, including a rivet cymbal dating from 1963.
Recorded using only the absolute best period equipment, including the legendary REDD.17 valve mixing desk from 1958, an EMI TG mixing desk introduced in 1967 as well as a valve Studer J37 4 track 1-inch tape machine from 1964.
Executively Produced by Peter Cobbin, Abbey Road's Director of Engineering, recorded by Mirek Stiles and assisted by John Barrett and Kris Burton. Native Instruments sound designers Paul Maurer and Nicki Marinic were on hand to oversee the sessions. Drumming duties were performed by one of London's top musicians, Ralph Salmins.
Over 29,000 24-bit, 44.1 kHz samples.
6.3 GB library size, using the new Kontakt 4 sample compression.
Up to 30 velocity layers for a single articulation.
Up to 6 variations of drum hits at the same velocity for added realism.
Separate vintage and modern mic samples for direct, overhead mono, overhead stereo, and room mics.
Two snare options for each kit.
Separate Right and Left hand samples for the most common Snare, Tom, and Hihat articulations.
Snare Top/Bottom and Kick In/Out samples.
Optional snare bleed samples for many drums.
Abbey Road 60s Drums is available to purchase for 99 EUR. DVD Delivery starts on February 1st.
More information: Native Instruments / Abbey Road 60s Drums