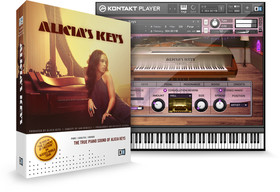 Native Instruments has released Alicia's Keys, a virtual piano instrument for Kontakt/Kontakt Player.
The instrument samples come from Alicia Keys' very own Yamaha­™ C3 Neo grand piano. This unique and highly-sought after instrument was built to celebrate Yamaha's 100th anniversary in 2002 and represents the very top of the Conservatory Collection line. The exquisite and unique sound of the C3 Neo were painstakingly captured by Thomas Skarbye, Kontakt script wizard Nils Liberg, and Grammy-award winning engineer Ann Mincieli – making this exclusive instrument available to everyone. Using vintage microphones and preamps and through detailed analysis of Alicia's playing, the team succeeded in capturing the warm, soulful and inspiring sound of the C3 Neo all the way down to the finest nuances.
Alicia's Keys features
The sound of Alicia Keys' own personal Yamaha C3 Neo piano: Almost 3,000 individual samples on 12 discrete velocity layers with and without pedal — equivalent to 17GB of uncompressed WAV files!
Sampled from Alicia Keys' own playing, recorded in her studio with her own engineer.
Developed with the artist and tailor-made for her recording and performance needs.
Meticulous sampling technique including the noise of the finger hitting the keys (optional).
Sampled sustain and release phases with authentic implementation of the sustain pedal.
All-new sympathetic resonance system for harmonics in undampened strings.
Exceptionally clean quality, yet featuring adjustable microphone noise for old-school sound.
Natural mechanical release noises for each of the 88 keys and pedal noises.
Integrated convolution reverb for tweaking the sound directly in the instrument.
Easy user interface providing integrated documentation of all settings.
Alicia's Keys is available to purchase for Windows and Mac (includes free Kontakt Player), priced at $119 USD / 99 EUR.
More information: Native Instruments / Alicia's Keys