Native Instruments has announced the release of Solar Breeze, a new Maschine expansion pack dedicated to the indie electronica genre.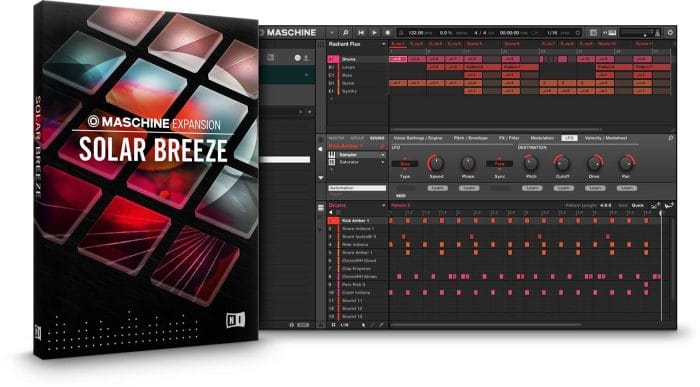 The expansion features a large pool of processed acoustic samples, as well as new presets for leading NI synths. All synth sounds were tailored to complement the acoustic samples with electronic textures.

SOLAR BREEZE features a sonic foundation of multi-sampled, processed electric guitar licks and chords, electric basses, and acoustic drums.
Extensive use of MASCHINE's effects adds the atmospheric sound common to indie electronica styles. SOLAR BREEZE also includes a large selection of pre-sliced rhythmic loops, allowing fast beat re-composition. New presets for the MASCHINE 2 Drum Synths provide additional earthy, organic percussion. Furthermore, new presets for the acclaimed MASSIVE and MONARK synths included with MASCHINE deliver layered, distorted synths, processed pads, and guitar-like leads and basslines. Together, the sounds deliver a full palette of indie electronica sounds, while giving those working in ambient and uptempo electronic genres additional sonic flavor.

A compact version of SOLAR BREEZE is also available as an iMASCHINE Expansion, for creating beats on the go. Tracks can be exported to MASCHINE STUDIO, MASCHINE, and MASCHINE MIKRO for completion.
Solar Breeze is available for purchase for $49 USD/49 EUR/£44 GBP. Requires Maschine 2 software. The iMaschine expansion is available as an in-app purchase for $0.99 USD/0.89 EUR/£0.69 GBP.
More information: Native Instruments / Solar Breeze