Asparion has announced the availability of the Asparion D400, a hardware DAW controller interface.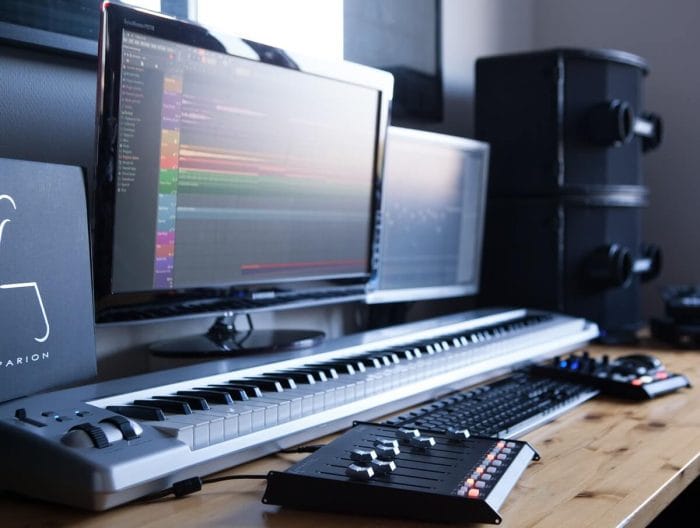 It offers an all-purpose user interface for a state-of-the-art music production. Designed for maximum productivity it adapts to your needs unconditionally. With up to 64 motorized faders and countless LED push buttons there is no limit to your creativity.

D400T
The D400T forms the basis. Besides all basic functions like "play", "stop" and "record" you can control settings like volume and panorama with the rotary encoders surrounded by an LED ring. By use of buttons 1 to 8 you can assign several functions to the rotary encoders. With the four additional rotary encoders you easily control an EQ. The Jog-Shuttle combination takes you to the correct spot in a matter of seconds. The available sockets to connect a sustain or expression pedal give you the chance to even use your feet. You can connect up to 8 extensions to the D400T which gives you up to 64 faders at the same time.

D400F
The combination of 8 highly precise motorized ALPS faders with 3 LED push buttons each, gives you full control over your audio tracks. The touch-sensitive surface of all faders makes automation become child's play. With an accuracy of up to 4000 levels per fader you always move your controllers exactly to where you want them to be. Due to their compact construction there is room for more than one D400F on every desk. As each extension can be connected to another extension there are sufficient USB ports at any time.

Asparion Configurator Software
Via the extensive software "Asparion Configurator" you can configure the smallest detail and your D400 will thereby be customized to your personal needs without any limitations.
D400 features
Ultra compact
Through its attractive design with a depth of only 238mm the D400 finds its place on every desk. The low construction height of only 33mm contributes to its timeless design which makes it look good everywhere.
Innovative handling
By use of the double click function you can allocate a second action to every button which gives you access to even more functions on smallest space. This is supported by a "push and rotate" function which allows you to turn a rotary encoder in its pushed state to control a second function.
Extremely robust
The aluminum chassis with its anodized laser printed surface does not only look sophisticated but is also extremely robust. Furthermore, the click noise of all push buttons is reduced by their silicon cap. Connected with three screws you can arrange each individual chassis in every order you desire.
A light spectacle
With the tremendous quantity of LEDs and the all-round translucent push button caps you have everything immediately in sight out of every perspective and by the way you create a true light spectacle.
The Asparion D400F and D400T are available for purchase for $579 USD and $429 USD, respectively, or bundled for $959 USD.
More information: Asparion / Asparion D400