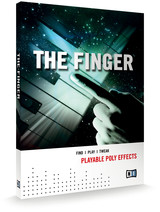 Native Instruments has announced the release of The Finger by Tim Exile, a unique keyboard-controlled performance effects processor based on Reaktor.
Based on advanced REAKTOR technology, THE FINGER provides musicians, producers and DJs with an inspirational and truly musical tool for intuitive sound mangling and live remixing in the studio and on stage.

"I've always been into the idea of playing electronics like you play acoustic instruments." says Tim Exile, designer of THE FINGER. "I used to sit at the back of class at school tapping out jungle breaks and edits.
That's when I fell in love with my fingers. I want to go on sound adventures by finger alone. I love it when sounds end up somewhere completely different from where they start off. I want to be able to play these transitions with my fingers and keep wandering with the sound."
The Finger features
Over 40 effects including real-time samplers/transformers (e.g. loop, re-arrange, reverse, scratch, heavy granular effects etc.), as well as filters, gaters, delays, reverbs, distortion, wave shapers, ring modulation and many others.
Each effect has two parameters controlled by velocity or mod wheel, and is tempo-synced to a master clock or the tempo of your audio host. The KORE PLAYER user interface allows for even further tweaking via the Macro Controls.
Trigger effects via MIDI keyboard (or the "piano roll" in a sequencer). Four octaves of MIDI notes have a specific effect per sound with their own settings assigned to each.
When used within a host sequencer as an effects plug-in, you can record your playing as MIDI in the piano roll editor allowing to edit your effect chains in a much simpler way.
Besides the possibility to use THE FINGER out of the box (with the free KORE PLAYER or KORE 2), it can also be loaded into REAKTOR 5, where an individual user interface is available allowing you to setup custom effects to any MIDI note.
The introduction of THE FINGER is complemented with the release of Tim Exile's "The Finger EP", a four-track album derived from live performances that utilize the software. The tracks are available for free download via "The Now Wave", a new blog established by Tim Exile and dedicated to live electronic music performance, at http://thenowwave.blogspot.com/
The Finger by Tim Exile is available for purchase from the NI online shop for $79 USD / €69 EUR.
More information: Native Instruments / The Finger by Tim Exile