Native Instruments has announced the release of Traktor Kontrol S8, a DJ controller featuring innovative touch-sensitive controls and full-color displays, a 4-channel standalone mixer, extensive audio interface, and enhanced performance decks for advanced integration of TRAKTOR PRO 2's Remix Decks.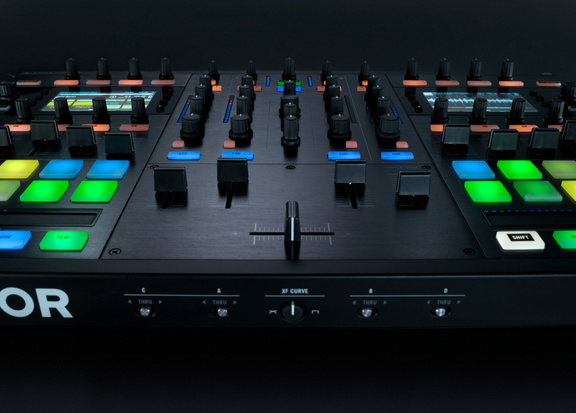 Designed to maximize creative expression, TRAKTOR KONTROL S8's deck sections and workflow simplify live editing and remixing to introduce a different paradigm in DJ performance. New performance tools such as Freeze Mode take a snapshot of a running track and enable detailed slicing for instant live improvisation and an element of spontaneity.
The dedicated Remix Deck View provides hands-on control of Remix Sets, samples, and loops while monitoring a deck in full-view on the S8's displays.

TRAKTOR KONTROL S8 not only delivers dynamic new touch-and-see workflow, but adds unprecedented flexibility with both classic and modern mixing media. Digital DJs can fine-tune mixes with two wide touch strips for precise track seeking and pitch-bending directly on the unit. Standalone mixer functionality offers connectivity for up to four turntables or CDJs – perfect for analog or timecode vinyl/CD control with the included TRAKTOR SCRATCH PRO 2 software. Remix Deck functions can even be controlled with timecode media for extended hybrid analog-digital control.

Central to the TRAKTOR KONTROL S8 experience, its advancements in hardware design deliver uncompromising, professional build quality unmatched even in products exceeding its price-tier. The 4-channel standalone mixer features a detachable fader panel fitted with patented inverse carbon strip faders that exponentially reduce dust and wear.
Faders can be replaced for maintenance on the unit, prolonging the S8's lifespan. The XLR, ¼", and RCA signal outputs from the extensive on-board audio interface surpass that of any current TRAKTOR product, and easily rival CDJ output levels.
Traktor Kontrol S8 is now available for purchase for $1199 USD / 1199 EUR.
More information: Native Instruments / Traktor Kontrol S8