Bedroom Producers Blog has announced the release of ESQ-1 Cassette Part 2 – Patches 12-22, a new addition to the ongoing series of free Ensoniq ESQ-1 synthesizer sample libraries by Neil Paddock for Native Instruments Kontakt and SFZ.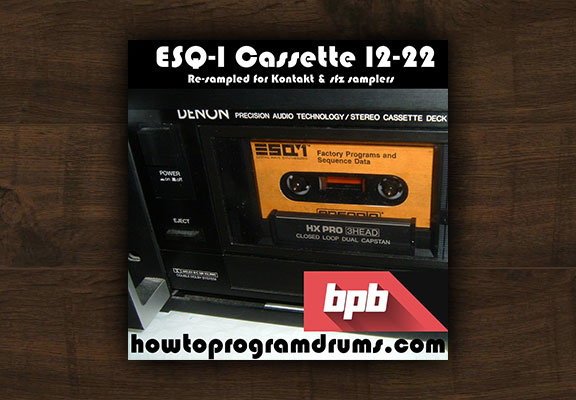 If you're a fan of classic '80s synthesizer sounds, chances are that you'll love this free sound library which has just been published on Neil Paddock's awesome website How To Program Drums. As a matter of fact, you'll probably also want to take a look at the previously released ESQ-1 Re-Boot and ESQ-1 Cassette Part 1 sample libraries, which are all a part of Neil's fantastic Ensoniq ESQ-1 sound pack series. And while you're there, why not grab our own free BPB Mini Analogue Collection sample pack, too?

ESQ-1 Cassette Part 2 contains multi-sampled versions of eleven different Ensoniq ESQ-1 patches, covering a lovely little selection of organs, brass sounds, keys and leads. The main focus of this free sample library is on the included NI Kontakt patches, but Neil Paddock has been awesome enough to also include the individual WAV files, as well as a set of SFZ patches which you can use in freeware instruments such as Beat Zampler and Plogue sforzando. Needless to say, the WAV files will work in virtually any digital audio workstation or sampler instrument out there, although you'll need to create your own mappings for them if you prefer going down that route. In case you prefer working with pre-made patches, then your best bet is probably to download a freeware VSTi plugin such as Beat Zampler and use it to load the provided SFZ files.
The sample pack is a free download from Neil Paddock's website.
More information: Neil Paddock / ESQ-1 Cassette Part 2