Nembrini Audio has announced availability of Plugin Rig, a host plugin that allows you to manage all your Nembrini Audio effect plugins in a single, easy to use interface.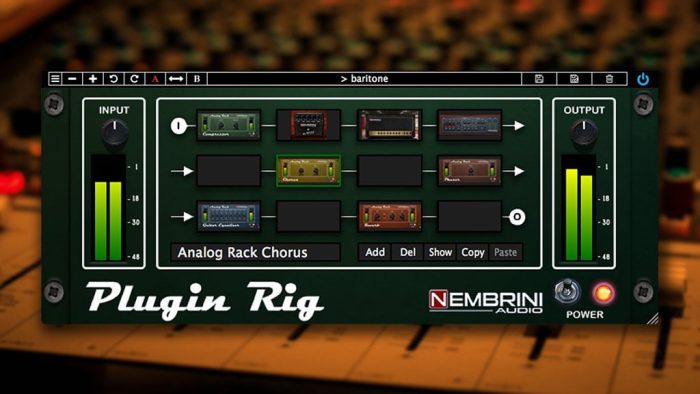 This is a perfect environment for the modern Guitar Player who wants to create and organize his entire guitar Amp and Fx chain in a single plugin.

It is also ideal for Music Producers and Audio Engineers in order to save their favorites Nembrini Audio plugin chains and recall them at once.

You can load up to 12 NA plugins in series, drag and drop plugins in any free slot, swap plugins, copy/paste and individually bypass any plugin easily. You can also add a Plugin Rig instance in any Plugin Rig slot, so you can save your favorite default Fx Chain and integrate it with the new Fx in a simple way.
Plugin Rig comes with five FREE Nembrini Audio plugins preinstalled:
Cranck V2, the completely redesigned Nembrini first plugin, the Cranck VST Amp.
Analog Rack Chorus, a very simple but powerful Chorus plugin inspired by the most famous Chorus pedals and rack effect units.
Analog Rack Delay, all the power of Nembrini Audio's delay algorithms in an easy to use interface.
Analog Rack Cleaner, high pass and low pass filters in a single rack Fx plugin to clear up low-end rumble and high frequency noise.
Analog Rack Noise Gate, a very simple but powerful noise gate plugin especially tuned for guitar and bass.
The Plugin Rig comes in VST/VST, AU and AAX plugin formats, with an intro price of $19 USD until November 13th, 2019. The regular price is $39 USD.
With a purchase of Plugin Rig you will also get a 60% discount on another Nembrini Audio plugin during the promotion.
More information: Nembrini Audio